My BOOK: This site is used to communicate with the many individuals who were involved with Model Rocketry back in the early days of the hobby. The purpose is to have you assist me in writing my long awaited book, Dear Mr. Estes. The title of the book is based on the planned use of letters from my large file of customers correspondence, received during our mail order years. That was back in the early days of model rocketry that many now call "The Golden Days of Model Rocketry". The youth of America were captivated by our budding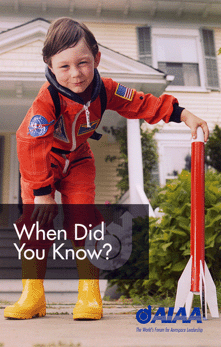 The American Institute of Aeronautics and Astronautics is asking their members the question, "When Did You Know?" you wanted to become part of America's Aerospace Industry. If you are a member you can log in and add your story at When Did You Know. Non-members can read the many interesting stories posted by others. Photo Copyright AIAA. Reprinted with permission.
space program and just had to get involved. What an exciting time in our country's history. And, what a wonderful time we had together. So join in the fun and let me hear from you. To send me your comments please click email to get address to manually enter into your email program. (I do not share email addresses with anyone but will keep your information on file to let you know when the book becomes available)
Each Chapter of the book will begin with one of those 'youthful' letters (or a recent letter) asking a relevant question or telling of an interesting model rocket related event. The book will tell how Estes Industries started and the people who made it happen. Focus will be on the founding of the company and the relationship we enjoyed with America's young rocketeers.
Since I set up the site a few years ago I have received many interesting emails from individuals telling how much model rocketry has meant to them and how it impacted their lives. I read each one carefully and look forward to receiving your comments as I try to put together the story of those wonderful days.
History Articles: I will be posting copies of published articles from time to time. You will be able to review these articles or download them for your personal record of model rocket history. These articles will offer information regarding the early days of model rocketry and the company that pioneered development of the hobby. I will also be posting history related photos and videos. So please check back from time to time to see what new items have been added. -- Vern